Dr. Adam Still is More than a Dentist!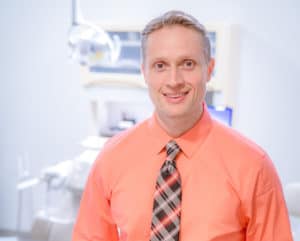 Dr. Adam Still Isn't Just a Dentist – He Stands Out in the Crowd!
Have you ever thought about the qualities you like about your dentist? We don't mean qualifications such as fabricating beautiful crowns, bridges and dentures. There are many dentists who are great at that part or they would not be in business. We mean all the other qualities that make him a leader. Here are just a few qualities that clearly show that Dr. Adam Still is a leader:
Leaders have a Clear Vision – As said by Jonathan Swift, vision is the art of seeing what is invisible to others. When Dr. Still does an exam, it's part of a plan for your future dental health. So, if you can see what you will accomplish in the years to come, you are truly a leader with a clear vision.
Leaders are Good Listeners – This a such an important quality for everyone, but especially a dentist or physician. Dr. Still takes the time to listen to your concerns and will always answer your questions in detail. A leader is someone who seeks advice from others too. Dr. Still is constantly in touch will all of the specialists we work with, as well as continuous courses to stay up-to-date with the latest in the dental industry.
Leaders Believe in Sharing Knowledge – A leader would always want people around him to grow as well. Leaders strongly believe in sharing their knowledge. Dr. Still takes a lot of time explaining his recommendations, using enlarged digital images and making sure our patients understand what is needed to have healthy teeth and gums for life
Leaders are Proficient at Time Management – Time management is a skill which not everyone possesses. However, leaders know how to utilize their time optimally. Patients of Smile Sarasota will tell you that our practice almost never runs behind schedule, and if we do, it's usually due to a serious dental emergency that takes longer than expected. Dr. Still respects your time and unless there is a serious emergency, we will be on time for your visits with our office.
Leaders Respect Others and Possess Great People Skills – A leader will never boast of his skills in front of others. He treats everyone equally and give due respect to others. Leaders are also known to have great people skills, and Dr. Still is certainly fantastic at that! You will hear much levity and laughter coming out of his treatment room. And the staff at Smile Sarasota will attest that everyone is treated equally and with respect.
If you are looking for a great dental office in downtown Sarasota and the surrounding communities of Siesta Key, Longboat Key and The Rosemary District, come in and see why we are so highly recommended!
Credit: Smilepls.com 
https://www.smilesarasota.com/wp-content/uploads/dr-adam-still.jpg
643
800
Smile Sarasota
https://www.smilesarasota.com/wp-content/uploads/Smile-Sarasota-web.png
Smile Sarasota
2016-10-24 12:54:56
2020-04-21 11:00:32
Dr. Adam Still is More than a Dentist!