Cutting Edge of Patient Safety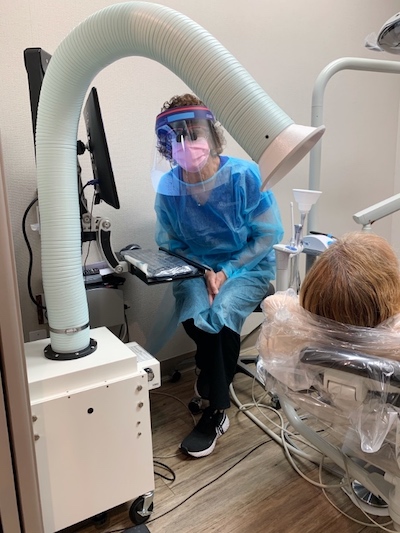 Smile Sarasota has always been on the cutting edge of patient safety. Many changes in infection control procedures and associated dental practices can be expected to arise in the post-Covid-19 world of dentistry. The extent and severity of changes will be dictated by evidence and research into the best and safest practices.
Here at Smile Sarasota, protocols have been altered and new products have been introduced and worked into the everyday flow of the office to provide safety and security to our patients. A lot of discussion has been brought up regarding patient protection against aerosols. Dental aerosols are created from the use of compressed air and water in dental tools forming a suspension of solid and liquid particles in a gas. Dental aerosols can be composed of water, saliva, plaque, microorganisms (such as bacteria, fungus, viruses, and protozoa). Current research states aerosols could linger in the air up to 3 hours.
Smile Sarasota introduces The Medical Fume Extractors which are capable of extracting dental aerosols during your procedure. The Medical Fume Extractors can be found in operatories where dental aerosols are being created. The Medical Fume Extractors have extraordinarily strong suction power to capture various harmful particulates effectively. The strong filtration system built into the machine has been proven to remove ultra fine particles, while the built in medical ultraviolet light is killing bacteria and viruses effectively as well.
We are excited to implement the Medical Fume Extractors to our practice! Stay tuned for our next blog where we introduce the Air Scrubber by Aerus® which utilizes state-of-the-art technology developed by NASA to create a safe environment for the astronauts in the international space station!
https://www.smilesarasota.com/wp-content/uploads/fume-extractor-sq.jpg
600
600
Smile Sarasota
https://www.smilesarasota.com/wp-content/uploads/Smile-Sarasota-web.png
Smile Sarasota
2020-07-08 09:00:34
2020-07-22 14:30:34
Cutting Edge of Patient Safety