Aesthetic Veneers after Ortho
Case Presentation
Patient Info: The patient is a male in his mid-20's. He is a non-smoker with a history of orthodontic treatment and no history of dental disease.
Chief Complaint: The patient wanted to fix his peg lateral incisors (a condition in which the second tooth on either side of the two front teeth does not develop correctly often resulting in small, pointed and cone shaped teeth.)
Expectation of dental treatment: The patient would like to have fuller and wider teeth and improve his smile with veneer cosmetic dentistry.
Clinical Examination: The patient came to the office for a consultation after completing Invisalign orthodontic treatment. The patient wanted to have veneers placed from canine to canine on the upper arch of his teeth. The patient also wanted to whiten his teeth prior to the veneers being permanently cemented.
Prep-op Pics: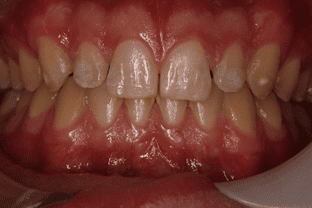 Impressions of both the upper and lower arch were taken. A wax up was made of what the teeth are expected to look like with veneers. A wax up is a dental diagnostic procedure in which planned restorations are developed in wax, on a cast, to determine the optimal clinical and laboratory procedures necessary and capable to achieve the desired aesthetics and function. The patient would like to aesthetically fix upper anterior/front teeth.
Treatment plan with options: The patient came to the office for a consult following the impressions being taken for the wax up. The patient is overall very pleased with the aesthetic look of the veneer wax up. Whitening trays were also delivered at the follow up consult appointment. At home whitening instructions were explained to the patient. Veneer preparation was completed a couple weeks after the patient whitened to allow for the most optimal whitening of the teeth.
Post-op Pictures of completed case: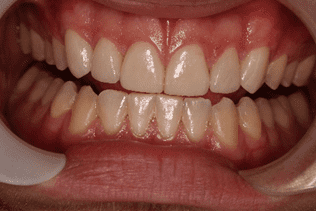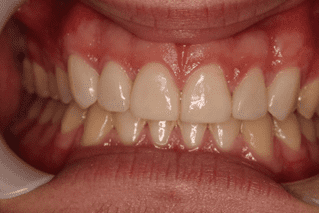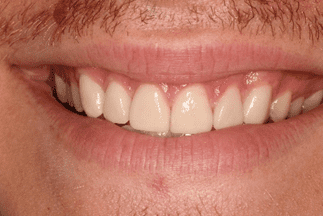 The patient was incredibly happy with the way the veneers filled out and gave fullness to his upper front teeth. The peg lateral teeth have been fixed to now match the length of all his other teeth. The patient was advised to be careful with the veneers and to follow up with whitening treatments as to have other surrounding teeth match the color of his veneers.
https://www.smilesarasota.com/wp-content/uploads/Aesthetic-Veneers-after-Ortho-after-3.png
216
323
Ben Gallaher
https://www.smilesarasota.com/wp-content/uploads/Smile-Sarasota-web.png
Ben Gallaher
2022-02-22 10:25:12
2023-03-30 22:25:50
Aesthetic Veneers after Ortho