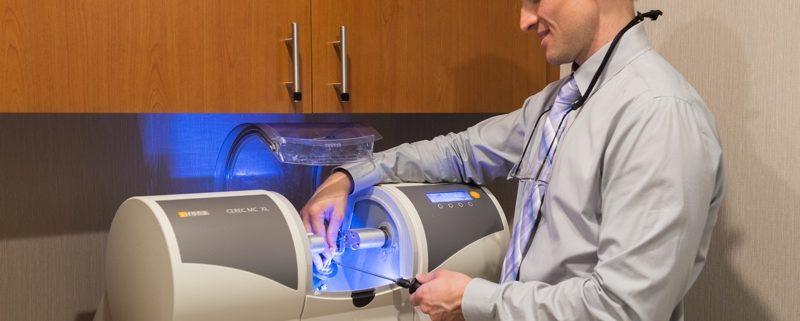 Happy Birthday Mr. CEREC!
Inventor of the revolutionary CEREC dental in-office crown machine turns 80.
Just over 30 years ago the CEREC machine was invented. CEREC completely revolutionized how crowns and bridges are made in the dental office. The infamous creator behind this groundbreaking machine is well known as Prof. Em. Dr. Dr. Werner Mörmann, who just recently celebrated his 80th birthday. Born in Goppingen, Germany in 1941, Dr. Werner Mörmann went on to attend the Dental Institute in Zurich in 1970 after completing his undergraduate studies and first dissertation in Heidelberg. At Heidelberg, he gained his PhD in 1974, where he focused on issues relating to dental restorations. During those times at the University of Zurich, adhesive dentistry was considered the solution to problems of bonding a restoration to a residual tooth. Dr. Mörmann considered ceramic a suitable material in dentistry as it was very similar to tooth substance in shape, color, and most physical properties. From there, Dr. Mörmann and Dr. Brandestini, an electrical engineer, designs an oral camera capable of taking pictures of the prepared tooth and a milling unit that works hand-in-hand to bring to life what the CEREC machine has developed through the software. On September 19, 1985, the first ever ceramic inlays created using the CEREC milling system.
Since its discovery, the CEREC machine has had significant changes to the way it operates, offering:
The advancements from two-dimensional designs platform to a three-dimensional over-view with increased memory storage.
The separation of the actual CEREC machine and the milling unit to allow for milling on a tooth, while working on another at the same time to increase dental production and speed in one dental visit.
The three-dimensional software constantly improved as it allowed dentists to edit and view the design through the software as if they were looking at the actual stone models from the lab, allowing the machine to be constantly evolving.
Today, CEREC is key to integrating workflow in restorative dentistry. Thanks to Dr. Werner Mörmann's pioneering designs and achievements in computer-based dental restorations, along with scientists, Dentsply-Sirona engineers, and users such as dentists and students, the system is ever changing in further developments.
On behalf of all the employees at Smile Sarasota, we would like to wish a BIG happy birthday to Dr. Werner Mörmann, the godfather of CEREC!
https://www.smilesarasota.com/wp-content/uploads/Dr-Adam-Still-setting-up-CEREC-crown.jpg
534
800
Smile Sarasota
https://www.smilesarasota.com/wp-content/uploads/Smile-Sarasota-web.png
Smile Sarasota
2022-03-30 15:45:26
2023-03-30 22:25:12
Happy Birthday Mr. CEREC!