Teeth Don't Die…You Kill Them!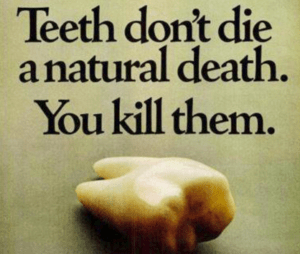 You may think that as you get older, you'll lose some of your teeth. You probably know older people who have bridges, dentures or implants to replace missing teeth. It may seem obvious that tooth loss is just another part of aging. It isn't…neglect is usually the cause of lost teeth.
So what should you do to prevent lost teeth? Just as taking care of your body can keep you active, taking care of your teeth can ensure that you keep them. If your teeth and gums are healthy, there's no reason for you to lose your teeth.
One of the keys to keeping teeth for a lifetime is to visit a dentist regularly. But many older people don't. They grew up during a time when preventative dental care was not emphasized. Some may not realize how important it is. They may believe that toothaches, bleeding gums, loose teeth or mouth pain are just part of getting older. In fact, these can be signs of gum disease, or other problems.
Preventative dentistry – regular dental checkups and professional cleanings are important. During an exam, Dr. Still checks for tooth decay, gum disease and oral cancer. Most of our patients visit Smile Sarasota three or four times per year in order to maintain healthy gums and teeth. A lack of dental visits can result in untreated tooth decay and gum disease. Both of these can lead to lost teeth. Missing teeth, toothache or mouth pain also can change how and what you eat. This means you may not get the nutrients you need to stay healthy.
Visiting the dentist is especially important for older people because they may have other medical conditions. These conditions can create dental problems. Hundreds of medicines can cause side effects in your mouth. Some of these, such as dry mouth, can increase the risk of tooth decay or other oral health problems. Saliva is a natural cavity-fighter. It neutralizes acids produced by bacteria that can cause tooth decay. Saliva helps wash away food and bacteria. It also contains minerals that strengthen teeth. Dry mouth reduces saliva. This makes you more vulnerable to cavities. Dr. Still can treat dry mouth and can prescribe fluoride rinses or gels to help keep teeth strong. Older people are more likely to get cavities for other reasons, too. Receding gums can allow acids to get to the roots of teeth and cause cavities. Older fillings can break down. This leaves teeth susceptible to decay.
So what if you have already lost all your teeth? People who have lost all of their teeth often think they don't need to visit the dentist anymore. But most people without teeth have dentures. Regular dental visits will help to keep dentures in good condition and fitting properly, as well as checking for oral cancer. The bone under your gums changes over time. Dentures that fit fine at one visit may need to be replaced or altered at the next visit.
Oral cancer also affects older people, whether or not they have teeth. Each year, about 8,000 Americans die of oral cancer. More than half of these deaths are in people 65 or older. Smoking and alcohol use also increase the risk of oral cancer. If oral cancer is detected early, it can be treated successfully. Avoiding the dentist makes early detection less likely.
What Else Can You Do?
Brushing and flossing are as important as ever for older people. To keep teeth and gums healthy, brush at least twice a day with fluoride toothpaste. Floss once a day. Some older people may have trouble handling a toothbrush or floss because of arthritis, a disability or an illness. Special toothbrushes and floss holders are available. They have been adapted to be easier to hold. Electric or sonic toothbrush s help. Just ask Dr. Still or one of our hygienists to help you find alternatives to make the job easier.
https://www.smilesarasota.com/wp-content/uploads/Teeth-Dont-Die-You-Kill-Them.png
354
418
Smile Sarasota
https://www.smilesarasota.com/wp-content/uploads/Smile-Sarasota-web.png
Smile Sarasota
2015-11-16 08:14:42
2020-04-28 07:51:01
Teeth Don't Die…You Kill Them!