Happy Thanksgiving from Smile Sarasota!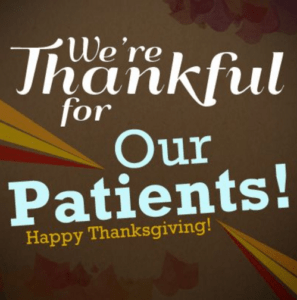 This coming week, just about everyone in the United States will celebrate the best holiday of the year: Thanksgiving. At its best, this is a holiday about gratitude, about family and about possibility. It brings people together to not only celebrate the end of the harvest, but to look one in another in the eye and share something magical.
In a digital age, one where humanity has been corrupted by commerce at every turn, there are very few Thanksgiving piñatas stuffed with coins, no huge market in Thanksgiving wrapping paper, no rush to the stores. We mostly save that for the next day, when the retail-industrial establishment kicks into high gear. After all the travel and the cooking and the hassle, for a few minutes, perhaps we can all breathe the same air and think hard about what we're thankful for. Wherever you are, celebrate Thanksgiving this Thursday. Or any day. Not the Thanksgiving of a bountiful Massachusetts harvest before the long winter, the holiday of pilgrims and pie. Let's imagine something else…A modern Thanksgiving would celebrate two things:
The people in our lives who give us the support and love we need to make a difference, and…
The opportunity to build something bigger than ourselves, something worth contributing to. The ability to make connections, to lend a hand, to invent and create.
From Smile Sarasota, Dr. Adam and Jaime Still and our staff…we are thankful for you, our patients and friends. Thank you for everything you do, and for the difference you make to your family and the people who care about you.
https://www.smilesarasota.com/wp-content/uploads/We-Are-Thankful.png
504
499
Smile Sarasota
https://www.smilesarasota.com/wp-content/uploads/Smile-Sarasota-web.png
Smile Sarasota
2015-11-19 08:16:16
2020-03-31 15:56:41
Happy Thanksgiving from Smile Sarasota!