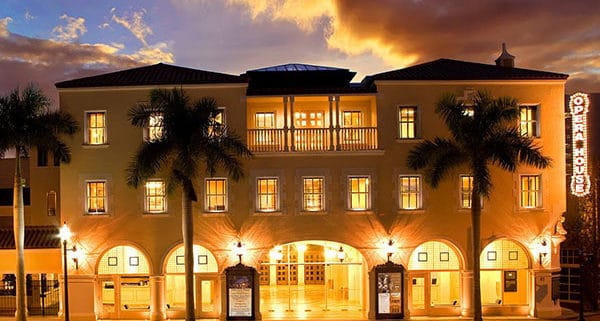 Elvis is in the House…The Sarasota Opera House that is!
Smile Sarasota is very proud to be a supporter and patron of The Sarasota Opera and those who live or visit Sarasota, Florida are so fortunate to live in a town where art, music and theater thrive. What's better than lounging on the number one beach all day and then enjoying a great production at the Sarasota Opera!
Those of you who grew up on Sarasota or have lived here a long time might be familiar with the history of the Sarasota Opera building. The building that is now the Sarasota Opera House was first the Edwards Theatre, built in 1926 by A.B. Edwards, Sarasota's first mayor. "It was more than just a movie theatre, it was for vaudeville, live entertainment played here, there were some retail establishments downstairs, some apartments upstairs and some offices upstairs," says Sarasota County historian Jeff Lahurd.
The Florida Theatre bought it in 1936. "When they were renovating this place, Jane Mansfield signed her name with 42, 26, 36 next to it." The Academy Award winning film The Greatest Show on Earth, filmed in Sarasota, had its Florida premier there in 1952. Did you know that Elvis Presley played there in 1956?  The evening show was a dollar for adults, 50 cents for kids.
After almost five decades, the Florida Theater closed its doors in 1973. In 1979, the Sarasota Opera Association bought the building and spent $7 million restoring it. Then in 2008, a $20 million renovation turned it into a world class facility. Now on the National Register of Historic Places, it is gorgeous and one of the most popular venues in Sarasota. Sarasota Opera's mission includes the mandate "to entertain, enrich, and educate our communities, as well as patrons from across the state and around the world."
Through a multitude of education and outreach programs, The Sarasota Opera provides opportunities for all members of our community to share their passion for opera. If you have never been, please check it out…you will love it!
https://www.smilesarasota.com/wp-content/uploads/opera_house_image.jpg
600
600
Smile Sarasota
https://www.smilesarasota.com/wp-content/uploads/Smile-Sarasota-web.png
Smile Sarasota
2017-12-04 08:49:25
2020-03-31 16:51:41
Elvis is in the House…The Sarasota Opera House that is!