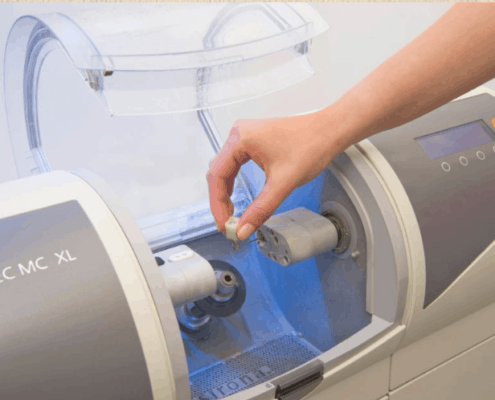 One thing that many people definitely do not have is patience. Whether they are sitting in traffic or awaiting test results, many people find happiness in instant gratification. When it comes to their smiles, people are no different, wanting results as soon as possible. From teeth whitening to correcting a misalignment, many people opt for the easiest, quickest way to see results. When it comes to crowns, you may think that you have to wait in order to have a custom-made crown delivered, but thankfully, Dr. Adam Still is able to give you a beautiful crown in a single appointment thanks to CEREC 'Same-Day' Crowns.
The first thing we do in order to get you ready for your crown is to prepare your natural tooth – any old filling material is removed along with decay. After that, a special camera will study and image your prepared tooth and the areas surrounding it, and send the information it has acquired to a computer. When the computer has translated the information it has received, a picture of your new crown is displayed on the computer screen. Our in-office milling machine will then begin to sculpt your crown from a single block of porcelain that matches your natural tooth color, ensuring it blends in seamlessly with the rest of your smile. In fact, you can watch your new crown being made! Dr. Still will place then place it on your prepared tooth and bond it in. At the end of your appointment, you are left with a beautiful, smile!
What is CEREC?
CEREC is an acronym for Chairside Economical Restoration of Esthetic Ceramics, or CERamic REConstruction. Translated, it means that we can restore damaged teeth in a single appointment using a high-quality bio-compatible ceramic material that matches the natural color of your other teeth.
A tooth-colored restoration means no more silver fillings discoloring smiles. The filling is natural-looking, compatible with tissue in the mouth, anti-abrasive and plaque-resistant. The CEREC process eliminates you having to come back for the second visit because the CEREC equipment resides in Smile Sarasota's office. Given this new process, here are some advantages of this CEREC crown technology for patients over traditional dentistry:
The patient only needs one visit instead of two or more
The computer-aided design ensures an exact fit eliminating biting problems and return visits
The patient does not have the bother of a temporary crown
The CEREC dental crowns are made out of ceramic, use no metal and are aesthetically pleasing
If you are ready to make an appointment Dr. Still for a CEREC crown, contact our Smile Sarasota office today! We are happy to take care of whatever general, cosmetic, and restorative dental need you may have. We are proud to serve patients in the downtown Sarasota, Longboat Key, and St. Armand's communities.
Take a look at this video showing Dr. Still doing the procedure on one of Smile Sarasota's patients:
https://www.smilesarasota.com/wp-content/uploads/Same-Day-Crowns-Magic.png
498
739
Smile Sarasota
https://www.smilesarasota.com/wp-content/uploads/Smile-Sarasota-web.png
Smile Sarasota
2017-04-17 16:07:56
2020-04-17 12:42:08
Same Day Crowns – Magic!