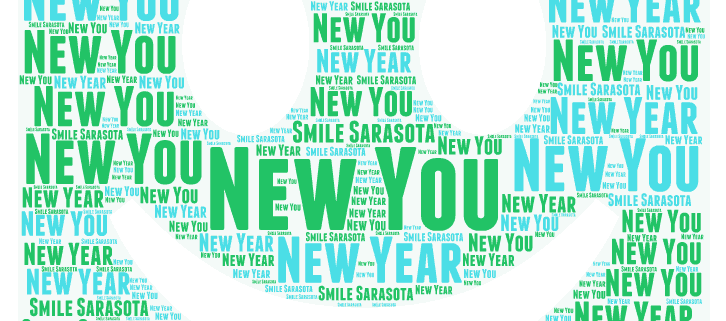 During the month of January, there is a huge emphasis on looking our best and getting fit for our overall health.  Most of us make resolutions to work out regularly, eat healthier diets and are determined to find a more robust anti-aging regime.  Along with a nutritious diet and exercise program, dental care is very often overlooked as a valuable aspect of keeping us healthy and confident.
Of course, dental hygiene and keeping regular oral checkups up to date are critical for dental health, but what about the way your teeth look?  Are they crooked, have they shifted since you had your braces years ago?  Do you have discolored teeth or spaces?  Perhaps you're tired of seeing other beautiful smiles and wishing you had such healthy looking, attractive teeth too. If your smile needs a lift, you may be surprised at just how easy it is to shape up your mouth and change you're the way you feel and are perceived by others.
So, why does it matter what your teeth look like? In psychology, there have been numerous studies on the social and psychological effects of the way we look and feel about our appearance.  Having stained, chipped, crooked, or missing teeth can cause forms of social withdrawal, depression, and anxiety. Many people are unaware of the fact that having an attractive smile increases confidence levels and can be an instant mood lifter, which is essential to our emotional health.  With this newfound self-assuredness, your confidence is perceived by others as a strength and can consequently provide better opportunities throughout the years to come.
There Are Numerous Options to Fit Your Needs:
Bonding– A composite resin material that matches your teeth can be applied to the tooth's surface, and in some cases, it can even fill in interproximal spaces between the teeth, which will close gaps and make the teeth appear more symmetrical.
Veneers-Stronger and longer lasting than bonding, veneers are a thin porcelain material that is permanently cemented to the tooth's surface.  It's stronger than enamel and helps to make teeth look proportioned, fills in spaces, restores chips or cracks by covering the entire tooth structure on the facial surface.  Veneers wrap around the biting surface leaving the majority of the back of the teeth natural.  Many celebrities have veneers.
Crowns- A crown is a permanent covering that fits over an original tooth that is decayed, damaged or cracked. Aesthetic crowns are made of a variety of the highest quality porcelain for the most natural appearance.  The process takes about two weeks, and you will have a high-quality temporary crown until your permanent crown is attached.  At Smile Sarasota, we also use CEREC.  Your crown is milled from a block of porcelain in the office.  The crowns are durable, impervious to stain, plaque resistant, quick, easy, and absolutely gorgeous.  With CEREC, you will receive your crown the same day.  There is no waiting on a lab or the need for a temporary crown.
Tooth Whitening- At Smile Sarasota, they offer two options for whitening; the first is an in-office procedure utilizing a LED light for quick, remarkable and safe whitening. Your teeth will be significantly lighter, but not "fake" white, as teeth will only lighten to a natural tooth color.  Although the results are long lasting, you will be given a touch-up kit to take home with you. Typically individuals will see a brighter smile for 6 to 18 months, depending on your diet and dental hygiene.  The second whitening option is to have trays made that fit your teeth precisely and an at-home whitening gel will be used as directed by Dr. Still.
Cosmetic dentistry is an excellent way to boost your confidence and make you feel like you've had a little lift to your appearance.  Whiter, straighter teeth are perceived as healthy; knowing that you take pride in your appearance will have a positive impact on you, and those around you. 
Smile Sarasota provides the highest-quality services for restoring mouths that have been damaged by dental disease, injury and common problems that require cosmetic dentistry. Their primary goal for patients is to achieve and maintain optimum oral health through advances in techniques, technologies, and by keeping their scheduled dental exams.
To find out more about CEREC or other ground-breaking dental methods, please call (941) 957-3311.
https://www.smilesarasota.com/wp-content/uploads/New-Year.png
687
726
Smile Sarasota
https://www.smilesarasota.com/wp-content/uploads/Smile-Sarasota-web.png
Smile Sarasota
2018-01-01 09:31:57
2020-03-31 16:58:24
New Year…New You