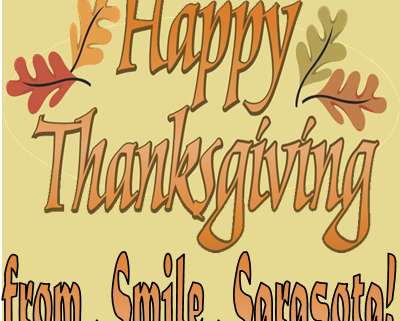 Happy Thanksgiving 2018 from Smile Sarasota!
Thanksgiving is a wonderful time of year. It is a time that brings families together, gives us an opportunity to appreciate and be thankful for all that has happened throughout the year. As Thanksgiving week approaches, we are reminded of how much we, in the dental profession, have to be thankful for.
With Thanksgiving almost here, it's only natural to reflect on what we're thankful for in our lives. For those of us who chose dentistry as a career, it's an opportunity to remind ourselves why we got into the dental profession in the first place. We are to be able to go to work every day doing something that is so fulfilling. We get to build beautiful smiles that are on display everywhere our patients go. We build friendships while we are getting to know our patients needs and desires. Then we cement those relationships by giving our new-found friends a beautiful smile, and comfort that is beyond their expectations. Here are a few more reasons!
The Opportunity to Help People: To help others is one of the most rewarding accomplishments we have. Dentistry has the capacity to really improve someone's quality of life, whether it's by improving their smile or by resolving any pain/infection so their teeth are functional
When Patients Appreciate Our Work: At times, being a dentist can be a thankless job. Sometimes you have to deliver not so welcome news or make recommendations to patients that they don't want to hear. But there are just as many moments in a dentist's career when people genuinely appreciate the effort you've made to help them improve their lives. We are thankful for the patients that appreciate the work we do.
Making a Difference: It's easy to take for granted the fact that we are making a difference on a daily basis. We make decisions that can change lives, and the patients we help can go on to make their own difference in the world. We get such a charge when a patient goes from not ever wanting to smile because of their teeth, to seeing them beaming all the time with self-confidence!
The list goes on with reasons we are thankful to be in the dental profession. Even on our most trying days, we have to remember the incredible opportunity we have to make a positive impact on others. That's something we can always be thankful for.
However you choose to spend your Thanksgiving holiday, Smile Sarasota wishes you and your family a safe, happy and healthy holiday with those you love.
https://www.smilesarasota.com/wp-content/uploads/SS-Thanksgiving-e1540219439582.png
400
394
Smile Sarasota
https://www.smilesarasota.com/wp-content/uploads/Smile-Sarasota-web.png
Smile Sarasota
2018-11-19 10:44:15
2022-05-20 10:33:09
Happy Thanksgiving 2018 from Smile Sarasota!