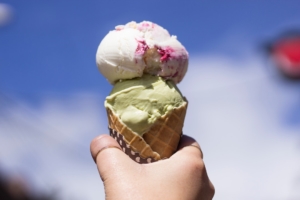 If you are having major restorative dentistry at Smile Sarasota such as multiple crowns or are having implants, oral surgery or periodontal surgery in conjunction with restorative dentistry, it's a good idea to give your teeth a bit of a break while you are healing. For this reason, cold soups, smoothies, jello/puddings, and cold drinks should be your main dietary intake. You will receive detailed instructions directly from the Oral Surgeon or the Periodontal Surgeon, so be sure to follow them! The good news it that this healing period is temporary!
After undergoing dental surgery or during major dental restoration, some of our Smile Sarasota patients may find it difficult to eat or enjoy their food during the healing period. This reluctance to sit down at meal times, plus an inability to consume normal, solid food, is especially true after dental surgery such as extractions and implants. It's not difficult to see why: too much chewing, slurping or sucking can aggravate the treated area, resulting in discomfort and even pain. It also can potentially re-open the area, causing bleeding or infection that will delay healing or cause problems with the surgery if the area is disturbed too much. However, despite any fears or lack of appetite, it's vital that you continue to eat, as nutrients provide energy and facilitate your healing process on the road to recovery.
Many patients ask Dr. Still, "What types of food are best?" "What sort of foods should be avoided?" In general, the rule of thumb is: no spicy foods, chips, popcorn, sticky food or candy, acidic juices, or carbonated drinks. But on a positive note, we thought it would be helpful to provide a series of menu suggestions that are tasty and nutritious!
Here are some ideas about what to eat to help you get through this healing period:
Vegetables:
Soups (smooth rather than chunky) – virtually any combination of vegetables can be made into a soup, or buy ready made ones!
Mashed avocado/guacamole
Fresh spinach, kale or other greens, cooked very soft
Sweet potatoes, baked until very soft
Soft-cooked or mashed carrots, squash, pumpkin
Cauliflower and broccoli, cooked very soft
Vegetable curry, cooked very soft (serve with boiled rice)
Vegetable juice (such as tomato juice)
Fruits:
Fruit juice
Fruit smoothies
Mashed bananas
Baked apples
Baked bananas
Applesauce
Meat, fish, eggs, beans and other protein foods:
Soup with soft meats
Moist, tender meat or poultry that is ground, shredded, finely chopped or blended with vegetables or potatoes, using a food processor
Soft-cooked fish
Fisherman's pie
Shepherd's pie
Chili
Dhal or well-cooked lentils
Crab cakes
Scrambled egg or poached egg
Beans (mashed if necessary)
Baked Beans
Tofu or Minced tofu
Bread, rice, potatoes, pasta:
Mashed potatoes
Pasta or noodles (not al dente!)
Cooked rice, risotto
Cooked cereal, porridge (with or without mashed fruit)
Cold cereal which has been left to soak in milk or soy milk until soft
Bread that has been softened in soup
Soft bread rolls
Muffins, pancakes, waffles
Milk and dairy foods:
Milkshakes, milk drinks
Yogurt
Yogurt drinks
Yogurt with soft fruits
Ice cream! (without crunchy bits)
Cottage cheese, ricotta cheese
Cheese in sauces or melted in other dishes
Desserts and sweets:
Custard
More Ice cream!!
Soft moist cake or pie – moisten in milk, coffee or other liquid if necessary
Jelly
If you have any questions about what is involved with any dental procedure, Smile Sarasota is here to answer them!
Sources and Credits: The American Association of Oral and Maxillofacial Surgeons (AAOMS), dentalfearcentral.org
https://www.smilesarasota.com/wp-content/uploads/ice-cream.jpg
720
1080
Smile Sarasota
https://www.smilesarasota.com/wp-content/uploads/Smile-Sarasota-web.png
Smile Sarasota
2018-09-03 09:29:18
2020-03-31 16:56:42
Ice Cream! Yay!