Downtown Sarasota's "Newest Oldest" Neighborhood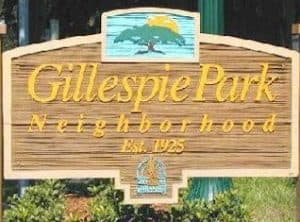 Gillespie Park in Sarasota, Florida is an up-and-coming place! A recent Smile Sarasota Blog focused on The Rosemary District and the old Ringling Shopping Center in downtown Sarasota, but we would be remiss if we didn't discuss Gillespie Park!
Gillespie Park has become one of Sarasota's great places to live for young professionals and retirees and empty-nesters. With its great neighborhood feel, large trees, charming architecture and downtown location convenient to all the of Sarasota's amenities, Gillespie Park's popularity is exploding. Nestled between Fruitville Road, 10th Street, U.S. 301 and Orange Avenue, the subdivision consists of old bungalows, cottages and Spanish-style townhouses, many of them dating to the 1920s, '30s and '40s. A good number have been refurbished and renovated, or are in the process. With its lush vegetation and stately pines and oak trees providing a shady canopy, Gillespie Park has a distinctly Old Florida feeling.
So here's a bit of history! Gillespie Park honors John Hamilton Gillespie, first mayor of Sarasota. This land was part of the town's experimental farm and when that failed due to poor soil, Gillespie laid out a golf course in 1886. After the turn of the century, the subdivision was platted for residential use. The real estate boom of the 1920s brought a wave of new inhabitants, and the neighborhood was named after Gillespie, who had arrived in town as one of the Scottish immigrants, built a hotel on Main Street and served as the city's first mayor.
A focal point of the Gillespie Park neighborhood is the historic park named after Gillespie. The city created the park on 10 acres of undeveloped land purchased for that purpose in 1924. Gillespie Park was developed with special emphasis on recreation for children and, in 1926, won an award in the National Playground Beautification Contest. An oasis of trees and green open space, Gillespie Park now provides tennis courts, picnic pavilion, playground recreational facilities, and features a lovely meandering pond.
Smile Sarasota is right around the corner, serving the dental needs of Downtown Sarasota, The Rosemary District AND Gillespie Park. So if you are new to Sarasota need a great dentist in Sarasota convenient to the downtown area, we are here for you!
Sources and Credits: SRQecoseeker.com, Activerain.com, Sarasota Herald Tribune, Sarasotagov.com
https://www.smilesarasota.com/wp-content/uploads/gillespie_park_sign.jpg
235
318
Smile Sarasota
https://www.smilesarasota.com/wp-content/uploads/Smile-Sarasota-web.png
Smile Sarasota
2017-07-03 08:24:26
2020-04-21 09:33:07
Downtown Sarasota's "Newest Oldest" Neighborhood