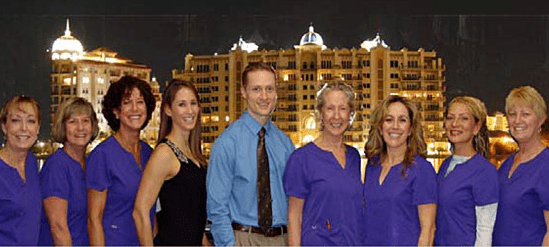 FOCUS ON THE DENTAL TEAM – THE GLUE THAT HOLDS OUR OFFICE TOGETHER!
At Smile Sarasota, for our team to be successful, each member must function with a level of interdependence and share in accountability, and demonstrate a devotion to success. To ensure the team functions synergistically with a strong sense of mutual commitment, each team member must possess a full set of complementary skills.
We will be posting information from time to time so you can get to know OUR team, starting with our Dental Assistants:
In today's modern dental practices, dental assistants are doing more than just comforting patients, suctioning mouths, and setting-up/tearing down treatment areas. Dental assistants with advanced training are now charged with performing many of the complex tasks that could otherwise prevent our doctors from seeing other patients. For oral health care of the 21st century, not just any dental assistant will do! Dentists like Dr. Still are demanding the skills of highly specialized assistants and prefer to employ team members who come to the practice with formal training and all required state credentials. There is no doubt that in the 21st century, dentistry remains a team-based profession. Quality oral health care continues to require the services of many highly skilled and knowledgeable individuals, because a lone practitioner cannot single-handedly be everything to everyone.
Our Dental Assistants are an integral part of the dental team, sharing in the responsibility for the delivery of quality oral health-care to all. We thought you may be interested in the three wonderful dental assistants at Smile Sarasota, so here is a little background bio on each of them:
Sandra was born in Bogotá, Columbia, where she trained as a licensed DDS. She is passionate about dentistry and has been working in the field for over 30 years. Sandra particularly enjoys the innovations and new technology that provides a real challenge for dentists. "The future of dentistry is unlimited and I take pride in staying current with the technology in order to provide the best services for our patients." Sandra is happily married and has two children and two step-children and one grandchild.
Wendy graduated from Weymouth North High School and continued her education at Aquinas Junior College, where she earned her Associate in Science Degree in Business. She also attended Northeastern University in cooperation with Tufts University School of Dentistry. She moved to Florida in 1989 and earned her Dental Auxiliary Expanded Duties at the University of Florida in Gainesville. She has worked in the field for over 20 years. Wendy is happily married and has two children. She enjoys gardening, travelling and country music.
https://www.smilesarasota.com/wp-content/uploads/Focus-on-our-Team-Part-1.png
247
549
Smile Sarasota
https://www.smilesarasota.com/wp-content/uploads/Smile-Sarasota-web.png
Smile Sarasota
2014-11-20 16:01:28
2020-04-21 09:06:13
Focus on our Team-Part 1