Oral Health & Dexterity As We Age
Our Smile Sarasota dental practice accepts patients of almost all ages although we do refer small children to a children's dentist. Since the demographic of our lovely city is mostly retirees and seniors, this is the average age of the patient we see. What we also see are the difficulties that are inherent as we age, namely dexterity problems with oral home care. When a patient is unable to properly brush and floss, dental disease is a certainty.  Assessment of daily oral care for our senior patients is an ongoing process for our Smile Sarasota team. And as our patients become more debilitated or dependent on caregivers, our dental team is always ready to train the caregiver in providing good daily oral hygiene for the patient.
If you have dexterity problems or a physical disability, you may find it difficult to hold onto your toothbrush or dental floss. Whether it is arthritis, stroke, an injury or carpal tunnel syndrome, there are some useful alternatives to helping those of you who may have some dexterity issues with brushing and flossing. There are things such as electric toothbrushes and flossers out on the market now to aid in good oral hygiene.
Electric toothbrushes come in an array of varieties and come with a substantially larger handle compared to the manual brush.  A good feature of the electric brush is that the head will either oscillate or rotate, so all you have to do is literally hold the brush on your teeth and move it from tooth to tooth. will help reduce the amount of arm movement required and circumvent dexterity problems. They are also easy to use for a caregiver.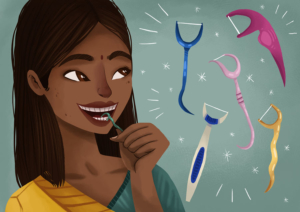 Flossers are aids to help someone floss without having to wrap the floss around your fingers.  There are disposable flossers and those that tend to be larger that you have to insert floss into.  An arthritic patient is a great candidate for these flossers, because you don't have to hold the floss on your fingers and manipulate it in the mouth, you simply hold the handle instead. One of the new aids are water and air flossers. A water flosser is a handheld device that sprays streams of water in steady pulses. The water, like traditional floss, removes food from between teeth. An air flosser  uses a stream of air, interspersed with small micro droplets of water. We will discuss water flossers in detail in an upcoming blog.
No matter what your age is, if you have dexterity issues and have questions about improving your homecare, feel free to ask our hygienists, Claire or Ann…they are always happy to assist!
Image by Authority Dental under CC 2.0
Sources and Credits: ADA, Colgate, Science Direct
https://www.smilesarasota.com/wp-content/uploads/elderly-walking.jpg
337
1008
Smile Sarasota
https://www.smilesarasota.com/wp-content/uploads/Smile-Sarasota-web.png
Smile Sarasota
2019-06-17 09:53:58
2020-02-03 13:08:19
Oral Health & Dexterity As We Age