A Bulldog Went Trick-or-Treating…
Halloween is upon us again!  Smile Sarasota started wondering how in the world we ever started going door to door asking for candy or why we dress up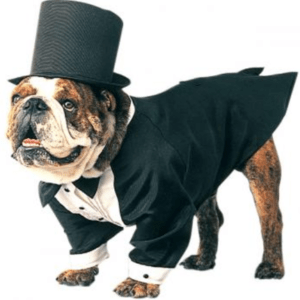 for this holiday.
After doing a little bit of research, Smile Sarasota discovered some interesting facts about Halloween.
Halloween is thought to have originated around 4000 B.C., which means Halloween has been around for over 6,000 years.
Trick-or-treating evolved from the ancient Celtic tradition of putting out treats and food to placate spirits who roamed the streets at Samhain, a sacred festival that marked the end of the Celtic calendar year.
Dressing up as ghouls and other spooks originated from the ancient Celtic tradition of townspeople disguising themselves as demons and spirits. The Celts believed that disguising themselves this way would allow them to escape the notice of the real spirits wandering the streets during Samhain.
According to the National Retail Federation, 40.1% of those surveyed plan to wear a Halloween costume in 2010. In 2009, it was 33.4%. Thirty-three percent will throw or attend a party.
In 2010, 72.2% of those surveyed by the National Retail Federation will hand out candy, 46.3% will carve a pumpkin, 20.8% will visit a haunted house, and 11.5% will dress up their pets.
The first known mention of trick-or-treating in print in North America occurred in 1927 in Blackie, Alberta, Canada.
Samhainophobia is the fear of Halloween.
Souling" is a medieval Christian precursor to modern-day trick-or-treating. On Hallowmas (November 1), the poor would go door-to-door offering prayers for the dead in exchange for soul cakes.
Halloween is the second highest grossing commercial holiday after Christmas.
Black and orange are typically associated with Halloween. Orange is a symbol of strength and endurance and, along with brown and gold, stands for the harvest and autumn. Black is typically a symbol of death and darkness and acts as a reminder that Halloween once was a festival that marked the boundaries between life and death.
Both Salem, Massachusetts, and Anoka, Minnesota, are the self-proclaimed Halloween capitals of the world.
Well, no matter how you celebrate this ancient and fun holiday, remember, if you're going to dig into the kids' or grandkids' candy, make sure to brush and floss after!
https://www.smilesarasota.com/wp-content/uploads/A-Bulldog-Went-TrickorTreating_2.png
431
431
Smile Sarasota
https://www.smilesarasota.com/wp-content/uploads/Smile-Sarasota-web.png
Smile Sarasota
2014-10-28 15:00:57
2020-03-31 15:36:23
A Bulldog Went Trick-or-Treating…