Why We Embrace Dental Technology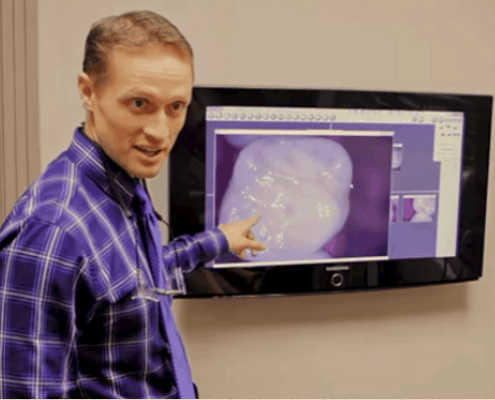 We recently asked our Technology Coordinator to research Virtual Reality Headsets for use by our patients in the treatment rooms. We are always looking for the 'latest and greatest' to better serve our patients. As far back as 2004, The Journal of the American Dental Association published a study about the integration of technology in the dental practice. The author discovered that integration of technology was "crucial to the efficient and effective functioning of the dental office." Smile Sarasota has embraced technology from the very beginning and we continue to stay on the leading edge.
Why is this important to our patients? There are three major reasons we use technology in our practice:
Dental Technology increases efficiency. How? By consolidating communication and information into a well-integrated platform. First and foremost, Dr. Still is there to provide quality dental care to his patients. When you can find ways to boost your efficiency without compromising the quality of your work, it's good for all involved. There are many ways that technology helps a dental practice improve efficiency and productivity. Our practice management software allows everyone on our dental team to communicate effortlessly, with notes and images included with the patient files. Digital radiography and imaging allows for instantaneous sharing of information, either with the team or to referring specialists. Our CEREC Same-Day Crown CAD/CAM allows the creation of dental restorations in the office the same day, not requiring a second appointment for the patient. All of this communication and sharing of information boosts productivity in the office, and reduces chair time for the patients.
Dental Technology improves the patient experience and impression of the office. The same things technology does to improve the efficiency and productivity are also improvements for the patient experience. When patients have less time in the dental chair, have fewer appointments, you have elevated the patient experience. In addition, with the large, flat panel displays in each of our treatment rooms, and the ability to examine images together and helps educate and help our patients understand why we are recommending the necessary treatment.
Technology also improves the patient experience through the patient's perception of the office. All of us love our technology. Smartphones, apps, tablets, and 'the cloud' have infiltrated even the most mundane parts of our lives. When patients go to the dentist, they like to see that technology is everywhere there as well. It shows our patients the that our practice has invested in providing them state-of-the-art care. And hopefully, our patients then share their experience on one of the many social apps that lives on the smartphone they have with them all the time.
The array of digital equipment available to dentists has increased significantly. Such advancements in dental technology enable patients to receive modern solutions to traditional dental problems. Among the digital technologies we use at Smile Sarasota are digital radiography, intraoral cameras and CEREC CAD/CAM same-day crowns, discussed above.
Digital radiographs capture dental images through a sensor that processes the image onto a computer screen. Digital X-rays provide greater comfort than traditional X-rays and reduce radiation exposure. Additionally, digital radiographs allow dentists to magnify images for greater diagnostic accuracy, ensuring more timely and appropriate treatments.
Intra-oral cameras can produce accurate images of your teeth and the supporting structures as you see Dr. Still doing in the photo. This allows you, Dr. Still and our hygienists to see tooth defects. It also allows you to better understand the need for the recommended treatment. Intra-oral cameras also help you to learn more about dental hygiene practices, including where to focus on brushing your teeth.
The technology of the Internet has also made a huge difference in communication with our patients. We send appointment reminders via email and text messages as well as that friendly phone call if you wish. Additionally, communication programs make it easy for us to securely share information about a patient's case with their  our specialists, as well as with our seasonal residents who have a dentist up north.
So you can rest assured that Smile Sarasota will stay on the leading edge. As for those Virtual Reality headsets, we will have them someday when they are a bit more streamlined!
https://www.smilesarasota.com/wp-content/uploads/Why-We-Embrace-Dental-Technology.png
403
517
Smile Sarasota
https://www.smilesarasota.com/wp-content/uploads/Smile-Sarasota-web.png
Smile Sarasota
2017-02-06 15:25:29
2020-04-17 12:45:45
Why We Embrace Dental Technology