What's So Special About Dental Specialists?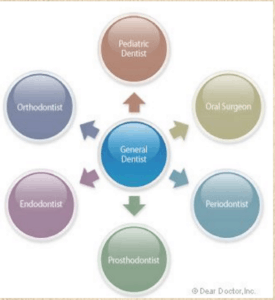 Smile Sarasota and Dr. Adam Still have always been there for you for your general dental needs such as teeth cleaning, crowns, cosmetic dentistry, etc., but is he always the best one to turn to? Would you know if you should be seeing a specialist? Don't worry…Dr. Still will know!
Most of you are used to being referred to medical specialists by your primary care doctor, so what is a dental specialist?. All dentists in the United States are doctors and go through a lengthy education and degree program in order to become a Doctor of Dental Surgery (DDS) or Doctor of Medical Dentistry (DMD). (Dr. Still is a DMD) These degrees are essentially the same, but universities vary the title. Doctors who decide to focus their skills in a particular area and obtain additional certifications after they become a DDS or DMD are known as specialists. At the present time, the American Dental Association (ADA) recognizes a number of specialties such as:
Endodontics
Oral and Maxillofacial Surgery
Orthodontics and Dentofacial Orthopedics
Pediatric Dentistry
Periodontics
Prosthodontics
Why might you need a dental specialist? Dr. Still often refers our patients to specialists when they need a level of care that can't be provided in our office. For example, children who aren't prepared to sit still in the chair will often be referred to a pediatric dentist. We will also send patients to an endodontist (root canal specialist) for treatment of teeth because they have infection (abscess) of the nerve of the tooth or the tooth is broken at the gumline and the nerve is exposed. In general, there are three huge benefits to seeing specialists for treatment.
The Specialist has Additional Training: Specialists have to go through additional schooling, which generally amounts to a two-year residency program. On top of this, all dentists have continuing education requirements. This means that they have to keep taking classes for as long as they're licensed, in order to remain in good standing. Because general dentists work in all aspects of dentistry, they can go their whole lives without ever refining their skills in a specialty area.
The specialist performs the same treatments all day, every day. It probably goes without saying, but the more often a person does something, the better he is at doing it. Perhaps the most compelling research in this area involves dental implants. While there is no specialty dedicated to dental implants, it's far more common for prosthodontists, oral surgeons, and periodontists to handle dental implant cases, especially the more complex ones.
The specialist invests in procedure-specific materials and equipment. For example, the endodontist we refer to has an operating microscope to perform root canal procedures and the oral surgeons we refer to have CT scanning equipment used when placing implants and other procedures. The same is true across all specialties and it makes a difference in the quality of care provided.
All these things mean that the specialist is primed to not only do a better job, but also to do it more efficiently, so Dr. Still may refer you elsewhere when he knows your needs are beyond his skills. All dentists, whether generalists or specialists, have a primary responsibility to hold their patients' best interests at heart, which means treating to the standard of care set by the profession. General dentists such as Dr. Still are the primary oral health 'gatekeepers'. They generally see people first, evaluate their oral and dental health needs, and then treat or refer for specialty care depending on the conditions they assess and diagnose. We have great relationships and work very closely with the specialists we refer to. We receive constant updates and reports on your care. We have confidence, trust, and feel comfortable referring tour patients to them for treatment.
Seeing a dental specialist does not mean that you have a new dentist…most of your work will still be done by Dr. Still. If you are looking for the best general dentist in Sarasota, please give our office a call to schedule an appointment.
https://www.smilesarasota.com/wp-content/uploads/Whats-So-Special-About-Dental-Specialists.png
449
412
Smile Sarasota
https://www.smilesarasota.com/wp-content/uploads/Smile-Sarasota-web.png
Smile Sarasota
2017-04-03 15:55:18
2020-03-31 16:18:16
What's So Special About Dental Specialists?