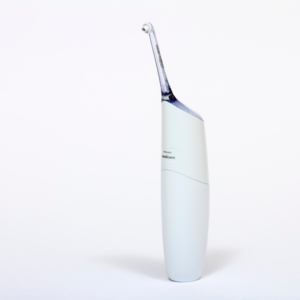 Most people don't love the thought of flossing; however, it is very necessary evil to achieve better oral health. The regular use of dental floss removes plaque, helping to prevent the buildup of tartar. Simply flossing your teeth daily can make them look brighter by removing plaque and excess food particles that may not be seen in your mouth. Some people may run into issues involving dexterity. Thankfully, Philips has come up with a way to aid in daily flossing. Philips created a unique device called Airfloss. The Airfloss tip is designed with a unique guide directing you to the spaces between the teeth. Once you have the Airfloss in place, click "ON" for the microburst technology to remove plaque. Here are some common questions to better understand the use of the Airfloss.
Q: What is Airfloss? How does it work?
A: Airfloss is a device created by Philips to remove plaque from between the teeth. It uses a rapid burst of air and water droplets to disrupt the biofilm from between the teeth (also called microburst technology).
Q: Is the Airfloss the same as an oral irrigator?
A: Oral irrigators work using large volumes of pulsating water to disturb plaque biofilm between teeth. The effectiveness of Airfloss relies on the power of micro droplets to remove plaque biofilm.
Q: Does using the Airfloss hurt?
A: The force behind the Airfloss technology is powerful enough to remove plaque, while still remaining gentle on your teeth and gums. If cold sensitivity is a concern, a teaspoon of slightly warm tap water can be used.
Q: Can mouthwash be used instead of water?
A: Yes! You can use water, an antimicrobial mouthwash, or both in your Airfloss. Whitening, desensitizing or fluorinated mouth wash can be used as well.
Q: Should Airfloss be used instead of floss?
A: Engineers at Philips developed Airfloss to help bridge the gap for people who need to floss but can't/don't.
Overall, flossing should be done at least once daily for optimal dental health. While string floss will offer the best cleaning opportunity due to the ability to contour the string around teeth, any kind of flossing is great! If you have any further questions or would like more information about the Airfloss, ask your hygienist at your next dental visit at Smile Sarasota.
https://www.smilesarasota.com/wp-content/uploads/airfloss.jpg
600
600
Smile Sarasota
https://www.smilesarasota.com/wp-content/uploads/Smile-Sarasota-web.png
Smile Sarasota
2021-03-30 13:06:20
2021-07-21 16:22:03
What is an Airflosser?