The Bridge to Smile Sarasota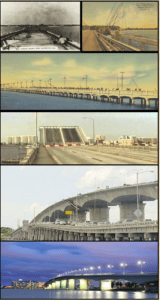 As you all know, part of Smile Sarasota's logo is an awesome photo we commissioned of the John Ringling Causeway. For those of you who may not know the history of this beautiful bridge, we thought it might be interesting! After all, it's the gateway to downtown Sarasota from Bird Key, St. Armand's Circle and Longboat Key, and we proudly serve all those area, providing high quality dentistry in a relaxed, caring atmosphere. So rather than discussing dental bridges, we will learn about the Ringling Bridges – and yes, there have been more than one!
There have been three Ringling Causeway bridges. The John Ringling Causeway Bridge was opened for the first time in 1925 by John Ringling himself. The purpose was to get buyers from the mainland to the barrier islands, especially Bird Key, to buy land he had for sale. The John Ringling Causeway Bridge has been a unique part of Sarasota's history for more than 80 years. Construction on the first Ringling Causeway began in 1925. Ringling opened this first new bridge by driving his famous green Rolls-Royce over the Ringling Causeway on January 1, 1926.
By 1950, it was becoming clear that the original Causeway was not up to the task of handling the increasing traffic. Bird Key was booming along with the rest of the nation, and thousands of ex-GI's who had trained in southwest Florida moved there after attending college on the GI Bill. In early 1951, the State Road Board decided that a new bridge was needed to replace the original Ringling Causeway. The first bridge was torn down. It had cost $1,000,000. The new Ringling Causeway, a draw-bridge, opened in 1959 at a cost of $20,000,000.
Bird Key and the other barrier islands became hugely-popular boating communities in the last half of the 20th century and by the year 2000, the Ringling drawbridge was opening as many as 18 times a day. Traffic was snarling, and the situation grew increasingly aggravating and even dangerous. A plan was developed for a high-span, segmented, precast concrete Ringling Causeway. Work on the third John Ringling Causeway in 2001 and completed the work in 2003. The $68,000,000 bridge is a visually stunning masterpiece of architectural design and is now known around the world as a symbol of the greater Sarasota area.
If you are looking for a great dentist in Downtown Sarasota, Florida and the surrounding areas of Longboat Key, Siesta Key and The Rosemary District, give Smile Sarasota a call at 941-957-3311.
https://www.smilesarasota.com/wp-content/uploads/The-Bridge-to-Smile-Sarasota.png
931
498
Smile Sarasota
https://www.smilesarasota.com/wp-content/uploads/Smile-Sarasota-web.png
Smile Sarasota
2016-11-14 13:02:55
2020-04-21 10:57:25
The Bridge to Smile Sarasota