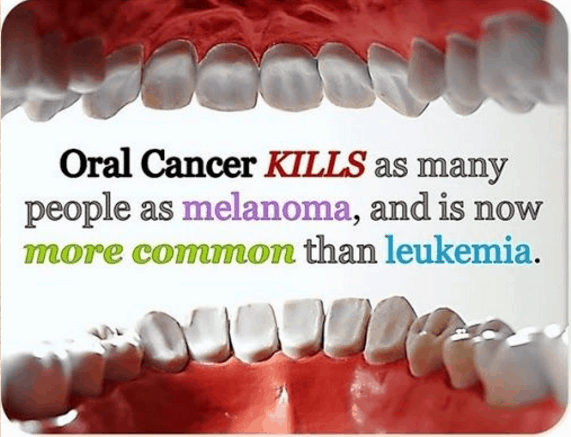 APRIL IS ORAL CANCER MONTH 
Oral Cancer collectively kills nearly one person every hour of every day of the year. Of the people newly diagnosed with these cancers, 40 percent will not survive longer than five years. Moreover, many who do survive suffer long-term problems, such as severe facial disfigurement or difficulties with eating and speaking.
The death rate associated with oral and oropharyngeal cancers remains particularly high because the cancers routinely are discovered late in their development. Fortunately, when oral and oropharyngeal cancers are detected and treated early, mortality and treatment-related health problems are reduced.
Smile Sarasota wants to remind everyone that regular oral cancer screenings are the best method to detect oral cancer in its early stages. Dr. Still does this each time you visit our office for a cleaning and exam, and this is one of the biggest reasons we recommend that you come in AT LEAST twice per year for a cleaning and checkup.
Be mindful of symptoms:
Your mouth is one of your body's most important early warning systems. In between dental visits, it is important for patients to be aware of the following signs and symptoms, and to see Dr. Still if they do not improve or disappear after two-three weeks:
• a sore, or soreness or irritation that doesn't go away
• red or white patches, or pain, tenderness, or numbness in mouth or lips
• lumps, thickening tissues, rough spots, crusty or eroded areas
• difficulty chewing, swallowing, speaking, or moving your jaw or tongue
• a change in the way your teeth fit together when you close your mouth
When it comes to symptoms, keep this two-three week time period in mind, but always call your dentist right away if you have any immediate concerns.
Oral cancer may present with one or more of the following persistent (longer than two-three weeks) signs and symptoms:
• a painless lump or swelling felt in the neck
• sore throat, difficulty swallowing, or pain when swallowing
• swelling of the tonsillar areas at the back of the mouth
Be aware of the symptoms and risk factors of oral and oropharyngeal cancer. Early detection and treatment may well be the key to a complete recovery.If you have never had an oral cancer examination, there is no better time to schedule one than during Oral Cancer Awareness Month in April. Give Smile Sarasota a call today to schedule your checkup and oral cancer screening today!
https://www.smilesarasota.com/wp-content/uploads/One-Dead-Every-Hour.png
437
571
Smile Sarasota
https://www.smilesarasota.com/wp-content/uploads/Smile-Sarasota-web.png
Smile Sarasota
2016-03-31 09:11:45
2020-04-21 11:28:06
One Dead Every Hour