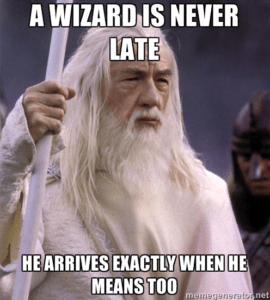 It's Important to be On Time!
This is a common problem for any service that deals with the public, but it is very pertinent to dentists. At Smile Sarasota, if a patient is 5 or 10 minutes late, we can usually still see them, but when patients show up 20 minutes or more late for their appointments, we are either forced to reschedule them or risk running behind for our next patient, which is not fair to that patient who IS on time. Additionally, dental procedures cannot be 'rushed', nor would you want us to!
On the other hand, we try very hard not to make YOU wait, but at times, we do have emergencies which can put us behind schedule. We always try to let you know if we are  running behind schedule and will give you the option of rescheduling if you are unable wait. If YOU are that emergency in the chair, we know you appreciate the fact that we worked you in and sometimes these emergencies can be time-consuming.
At the end of the day, we appreciate our patients and we are flattered that they chose our dental practice for their dental needs.  When all is said and done, we are in a "people pleasing business". We really want to leave a "good taste in their mouths" and try to keep our patients happy!
https://www.smilesarasota.com/wp-content/uploads/On-Time.png
552
496
Smile Sarasota
https://www.smilesarasota.com/wp-content/uploads/Smile-Sarasota-web.png
Smile Sarasota
2015-11-02 08:05:23
2020-05-01 10:58:22
On Time!