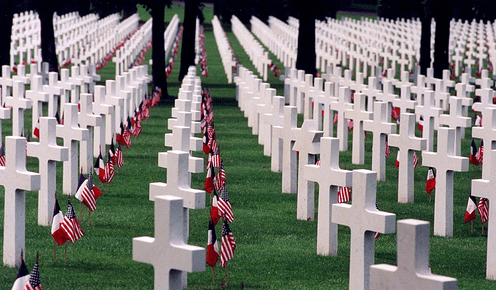 MEMORIAL DAY:  A day to remember the soldiers who live and die for their country – so it's our duty to pay the tribute to them!  Here is a collection of great Memorial Day quotes:
"Who kept the faith and fought the fight; The glory theirs, the duty ours."
– Wallace Bruce
 "A hero is someone who has given his or her life to something bigger than oneself."
– Joseph Campbell
"As I approach the gates of heaven;
St. Peter I will tell;
One more soldier reporting sir;
I've served my time in hell."
– Mark Anthony Gresswell
"Memorial Day isn't just about honoring veterans, its honoring those who lost their lives. Veterans had the fortune of coming home. For us, that's a reminder of when we come home we still have a responsibility to serve. It's a continuation of service that honors our country and those who fell defending it."
– Pete Hegseth
"With the tears a Land hath shed.
Their graves should ever be green."
 – Thomas Bailey Aldrich
" Heroism is latent in every human soul. However humble or unknown, they (the veterans) have renounced what are accounted pleasures and cheerfully undertaken all self-denials; privations, toils, dangers, sufferings, sicknesses, mutilations, life-long hurts and losses, death itself ? For some great good, dimly seen but dearly held."
Joshua Lawrence Chamberlain
"On thy grave the rain shall fall from the eyes of a mighty nation!"
– Thomas William Parsons
"My fellow Americans, ask not what your country can do for you, ask what you can do for your country."
-John F. Kennedy
"137 years later, Memorial Day remains one of America's most cherished patriotic observances. The spirit of this day has not changed – it remains a day to honor those who died defending our freedom and democracy."
– Doc Hastings
"Memorial Day this year is especially important as we are reminded almost daily of the great sacrifices that the men and women of the Armed Services make to defend our way of life."
-Robin Hayes
"Thank You for the deed you did, thank you for serving the nation in the difficult time, thank you for keeping us safe from all the troubles. Its because of all the soldiers we are living a peaceful life. Thank you for everything." 
– Anonymous
"Soldiers are real super heroes we have in our lives. It's beneath them all the super heroes like batman, superman, flash and everyone live. Hats off to every soldier on this earth. "
– Anonymous
"Soldiers have to fight two battles continuously in their  life. One on the field ( in the fights ) and the second off the field ( family life) and have to win both continuously. A grand Salute to them. Thank You "
– Anonymous
https://www.smilesarasota.com/wp-content/uploads/Memorial-Day-Quotes.png
290
496
Smile Sarasota
https://www.smilesarasota.com/wp-content/uploads/Smile-Sarasota-web.png
Smile Sarasota
2015-05-19 10:41:02
2020-07-22 14:46:04
Memorial Day Quotes