Location, Location, Location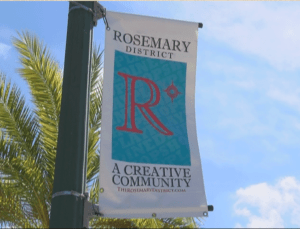 Being one of the few high quality restorative and cosmetic dental offices located in downtown Sarasota, we are very excited to hear all the news blurbs about the makeover of the up-and-coming Rosemary District. The unique Rosemary District, once known as Overtown, was part of the original plat of the Town of Sarasota in 1885.  If you're somewhat old-fashioned and maybe a bit romantic, you're likely to fall in love with the Rosemary District in downtown Sarasota.
The Rosemary District holds deep roots in Sarasota. In fact, the area's historical significance dates back the area's founding in the 19th Century. The Rosemary District thrived throughout Sarasota's earliest years, but as shopping malls and new housing developments tore people away from downtown in the 1970's and 80's, the District suffered along with other downtown communities.
In 1995, residents and local businesses formed a group to raise funds for restoring and modernizing the Rosemary District. As you walk the streets of this charming neighborhood, you can't help but feel the cultural journey the area is taking. With its dynamic architecture, mom and pop shops, cafes, boutiques, art studios and galleries, the Rosemary District is not just seen as a center for urban development but also one of the roots of the cultural heart of Sarasota.
Today the Rosemary District is a diverse and thriving community, the setting for a variety of locally-owned small businesses – cafés, boutiques, galleries, and art studios – as well as attractive residential properties ranging from charming bungalows to spacious high-rise condos. For much of its history, Rosemary has been a working-class neighborhood. By the 1980's, many of its buildings were vacant and its businesses dead. Yet downtown Sarasota's redevelopment has spun into Rosemary. Central Avenue is now flush with boutiques, salons, art studios, cafes and professional offices. Smile Sarasota is all about "supporting local" and there are so many wonderful businesses all around us. The Rosemary District is filled with places to go and things to do.
And right around the corner is your friendly downtown Sarasota dental office…Smile Sarasota! We have always been on the leading edge of dentistry in Sarasota and we remain poised to serve you and to enjoy the wonderful future that downtown Sarasota is embracing.
https://www.smilesarasota.com/wp-content/uploads/Location-Location-Location.png
498
652
Smile Sarasota
https://www.smilesarasota.com/wp-content/uploads/Smile-Sarasota-web.png
Smile Sarasota
2016-08-02 10:56:20
2020-03-31 15:58:51
Location, Location, Location