Finding the Right Dentist in Sarasota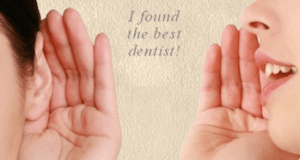 Considering that you and your dentist will be partners in your dental healthcare for the long haul, choosing the right dentist is an important decision for you and your family. How do you go about finding the right dentist?
The American Dental Association (ADA) offers these suggestions:
Ask family, friends, neighbors, or co-workers for their recommendations.
Ask your family doctor or local pharmacist.
Do a Google Search by ZIP code to fine a conveniently located office and be sure to look at the reviews. Ours are 5 Star.
Does the office have a dynamic, current website? Can you access it on your mobile phone or tablet? Go the websites of several offices to get a feel for the doctor, staff and type of office.
If they have a FaceBook page, check it out too. Smile Sarasota has a fantastic, fun FaceBook page.
While this is good, practical advice, when putting it into the context of our daily lives and overall healthcare plan, what other things should we really consider when choosing a dentist?
A big consideration may be whether or not the practice offers patient financing options such as Credit Care. Smile Sarasota does. As many practices require payment upfront, having a means to pay for the service insures you get the treatment you need. You cannot count on dental insurance to offer much assistance, nor should you let dental insurance dictate the care you need.
Are they members of professional associations such as the American Dental Association or the Florida Dental Association? Members of the ADA voluntarily agree to abide by the ADA Code. Dr. Still is a member of these organizations.
Is the practice up-to-date with technology? Smile Sarasota it totally digital and has been on the leading edge for many years.
Does the office adhere to stringent privacy practices? Smile Sarasota absolutely does.
Where is the office located? We are conveniently located in downtown Sarasota and easily accessible from St. Armand's Circle and Longboat Key.
Are they convenient to your schedule?  Consider if it would be more convenient to have the office located near your work or home.  A big part of maintaining healthy teeth and gums is simply being able to make it to your regular appointments.  If it would be easiest for you to pop over to your dentist during your lunch hour a location near your work may make sense.
Does the practice offer new patient specials or do anything to show appreciation for current patients? Smile Sarasota is now offering a $100 discount on your first cleaning!
What happens in the case of an emergency? Dr. Still is available on weekends and evenings to all patients of record who are having a painful dental emergency.
Are treatment plans discussed up front and cost estimates given? Smile Sarasota always gives you a detailed, written estimate.
Take a look around the office.
Is it comfortable, neat and orderly? Smile Sarasota did an extensive remodel in 2015 and you will find our atmosphere bright and happy. We offer aromatherapy hot towels, gourmet coffee, tea and other hot drinks and your choice of music in the treatment rooms.
Does the dentist and staff wearing gloves and protective gear during patient treatment? We absolutely do.
Is the staff friendly and welcoming? The staff at Smile Sarasota has been with the practice for many, many years and our patients comment that we are like family!
While choosing a new dentist is an important decision, it doesn't have to be a difficult one. Hopefully some of these tips will be helpful to you in your search. And of course, if you are looking for a new dentist, we invite you to call Smile Sarasota at 941-957-3311 to set up an appointment to see the facility and meet Dr. Still and our staff.
https://www.smilesarasota.com/wp-content/uploads/Finding-the-Right-Dentist-in-Sarasota.png
262
491
Smile Sarasota
https://www.smilesarasota.com/wp-content/uploads/Smile-Sarasota-web.png
Smile Sarasota
2015-10-19 14:23:42
2020-05-06 13:26:27
Finding the Right Dentist in Sarasota