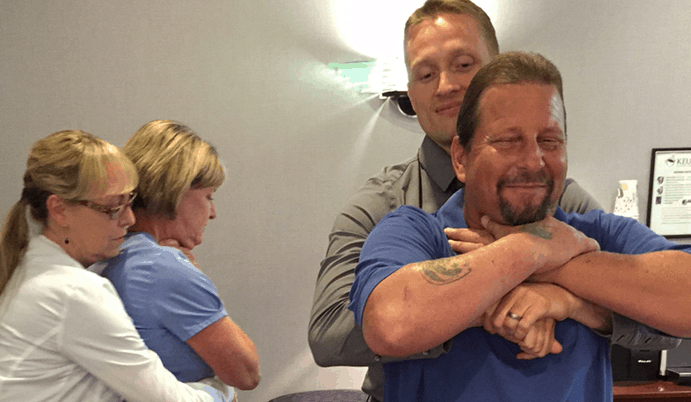 What the heck are we doing to each other??!! Pictured is Bill Sullivan of the American Heart Association, with Dr. Still, Liz and Lori,  brushing up on the life saving skills of CPR (Cardiopulmonary Resuscitation), use of an AED (Automated External Defibrillator) and the Heimlich Maneuver, now called the Abdominal Thrust, which could save someone from choking.
The ability to perform CPR and to know how to use an automatic external defibrillator can make a lifesaving difference when someone suffers a cardiac or breathing emergency.
If every American takes a class and gets their CPR certification, then thousands of deaths could be prevented each year. Do not hesitate to learn the skills that you can use to save a life. Would you rather stand by and watch the individual die or be able to save him/her from certain death? Our entire staff is certified.
https://www.smilesarasota.com/wp-content/uploads/What-the-Heck-are-we-Doing-to-each-other.png
402
691
Smile Sarasota
https://www.smilesarasota.com/wp-content/uploads/Smile-Sarasota-web.png
Smile Sarasota
2015-06-11 10:51:34
2020-07-22 14:39:52
Can You Save a Life?