Can Dr. Still Fix My Smile with Veneers?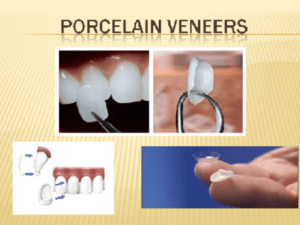 Veneers, sometimes called porcelain veneers, are custom-made thin, semi-translucent "shells" bonded to your teeth. Veneers are customized from porcelain material and permanently bonded to your teeth. Veneers are a great alternative to otherwise more invasive dental procedures to improve the appearance of your smile.
Common problems that veneers are used for:
Spaces between the teeth
Broken or chipped teeth
Unsightly, stained or discolored teeth
Crooked or misshapen teeth
Porcelain veneers are a great aesthetic solution to your smile that may even help you avoid orthodontic treatment. Subtle changes to your smile can be achieved with veneers, and in most cases, veneer application is completed in only two office visits. Veneers can also be an excellent alternative to crowns in many situations. They provide a much more conservative approach to changing a tooth's color, size or shape. Veneers can mask undesirable defects, such as teeth stained by tetracycline and damage due to an injury or as a result of a root-canal procedure. They are ideal for masking discolored fillings in front teeth. Patients with gaps between their front teeth or teeth that are chipped or worn may consider veneers.
Patients will need two or three appointments for the entire procedure: diagnosis and treatment planning, preparation and bonding. When you are ready to go, Dr. Still prepares the teeth for the veneers. The teeth are lightly buffed to allow for the small added thickness of the veneer. Usually, about half a millimeter of the tooth is removed.  A mold is taken of the teeth, which is sent to our laboratory technician for the fabrication of the veneers.
When your  veneers are ready, the Dr. Still places each veneer on the teeth to check their fit and get a sense of the shade or color. While the veneers are resting on your teeth, view the results, and pay particular attention to the color. At this point, the color of the veneers can still be adjusted with the shade of the cement to be used. The color cannot be altered after veneers are cemented. To apply the veneer, the tooth is cleansed with specific chemicals to achieve a bond. A special cement is sandwiched between the veneer and tooth and a light beam hardens the cement.
In some cases, Dr. Still can do a veneer chairside, using our CEREC CAD/CAM technology and can fabricate the veneer in one visit.
For about a week or two, you will go through a period of adjustment as you get used to your "new" teeth. Brush and floss as usual every day and enjoy your beautiful, new smile! Call Smile Sarasota today at 941-957-3311 for a consultation to see if you are a candidate for veneers!
Sources: knowyourteeth.com, webmd.com
https://www.smilesarasota.com/wp-content/uploads/Can-Dr-Still-Fix-My-Smile-with-Veneers.png
358
478
Smile Sarasota
https://www.smilesarasota.com/wp-content/uploads/Smile-Sarasota-web.png
Smile Sarasota
2016-11-30 14:20:06
2020-04-21 09:04:41
Can Dr. Still Fix My Smile with Veneers?